News Archive
Bridleway Regeneration (2013)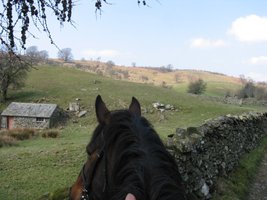 Ever since the inauguration of NLBS, members have worked hard to try to reopen or improve local bridleways on a number of different sites:
(i) Hawkrigg Farm, Kirkby Lonsdale: Markers have been obtained to divert people round farmyard
(ii) Route in Kirkby Lonsdale area: Gates on this route have been inspected with a view to repair or replacement
(iii) Farleton Fell: Gates have been mended on an unfenced road at the back of the Fell
(iv) Winmarleigh: A handle has been obtained for a gate on the track
(v) Greenlands Farm: Eve reported that riders should beware as they go round the corner on the BW as there are two "frightening" Emus!
(vi) Ford over River Greta at Cantsfield: Eve reported that the ford crossing of the River Greta at Cantsfield is now complete. Several members of NLBS, in particular Barbara Hartley, all campaigned and worked tirelessly to renew this crossing, which has enabled the BW to be used again. Jayne Elliot, Rights of Way Officer, and Kevin Almond, Public Rights of Way Officer, have spent a great deal of time on this project. In 2000 a bridge was proposed which was to be called the "Millennium Bridge"; however, this proved to be too expensive and plans were withdrawn. A shallow crossing was then located, but otters appeared, holding up the plans yet again. At last this route has been reopened which can be used by everyone again. NLBS would like to take this opportunity to thank all the land owners involved for their co-operation in the re-siting of the ford and parts of the BW.
The official opening to which our president, Lady Reay, was invited, was on Tuesday 16th April 2013.
Survey on the Cost of Horse Ownership (2009)
Results:
£4,752 if you have not got your own transport
£3,536 transport costs
TOTAL:
£8,288 FOR THE TWO THIRDS OF US THAT HAVE HORSE TRANSPORT
Horse owners in this area (at least 1600 of us) are contributing a very substantial £7,603,200 into the local economy.
This does not include the rates on private stables and equine businesses which are paid to the local council which were not included in the survey because of their very personal nature.
Vicky Lowe
Download a copy of the report here.
Still on the Right Track 10 Years Later
North Lancashire Bridleways Society has marked its 10th anniversary with a special night of celebration.
Formed by just a handful of riders who were keen to expand the then pretty dismal offering of bridleways in the North Lancashire area, the organisation has gone from strength to strength, and now boasts more than 300 members.
On December 1st many of those members danced the night away at Arkholme Village Hall and chief amongst the dancers was founding member and chair of the society, Eve Hall.
Eve, from Hest Bank, first came up with the idea of getting a few like minded horsey folk together to try and develop a wider bridleway network. It was an article in the "Horsebox" column of the Lancaster Guardian which made the suggestion that a bridleway society be established and people began to get in touch with Eve. Not in her wildest dreams, however, could she have imagined how the organisation would grow and what it would go on to achieve. Of the fourteen members at the inaugural meeting, ten still remain very supportive and active members of NLBS ten years later!
Not only has it been successful in identifying and reclaiming existing bridleways, but it has also become a powerful lobbying organisation, ensuring horse riders are considered in the creation of new off-road routes, such as the Millennium Park in the Lune Valley. It has also worked hard to raise funds to support its efforts and raise awareness of the need for other road users to consider the safety of horses and riders.
Perhaps one of its greatest achievements though has been the network of like-minded folk it has brought together, of all ages, all backgrounds and from all parts of the district. Members have offered support and advice to each other on all issues equine. The monthly organised rides have helped ensure people have had the opportunity to ride and discover different parts of the district. Many have shared riding holidays away from the district and a myriad of strong friendships have been made.
The form of the celebration was the idea of Katarina Pardula, who was our first secretary. She is still a member of the NLBS and offered to organise the event for us! - a wonderfulgesture & one for which we were very grateful.
When the members raised their glasses to toast their 10th year anniversary on 1st December, they could be certain their society has lived up to its own slogan and is definitely "On the Right Track".
"Think Horse" Signs
The Lancashire Partnership Against Crime (LANPAC) has donated £250 towards placing more signs in our rural areas requesting motorists to "Think Horse". The signs are the idea of the NLBS and aim to warn motorists that there may be someone riding a horse around the next corner.
Chair of the NLBS, Eve Hall, said the signs were necessary and thanked PC Paul Winder for his help in securing the funding. She said, "I have had reports of many near misses and we felt we needed to do something to protect the riders, many of whom are young children.
"We would urge people who drive around the rural areas just to slow down and think. It may only knock a few seconds off their journey but could prevent a tragic accident.
"I approached PC Winder with the idea and he was only too happy to help and we are all delighted with the grant."
PC Winder, Community Beat Manager for Halton and the Upper Lune Valley, said: "This scheme is an excellent initiative and LANPAC were only too happy to help."
Ian Groundwater from LANPAC said: "The partnership aims to back schemes which will help improve public safety and this one certainly fitted the bill – we hope it is a great success."
Jan 08 "Think Horse" footnote
The 'Think Horse' notices were initially the idea of Lady Mary Towneley, who instigated the Mary Towneley Loop and who devoted so much of her life to developing off-road riding routes & encouraging safer riding in general. NLBS has continued and developed the idea of 'Think Horse' signs, but we are now running into the problem of some of the signs being removed by the Highways Department, as such signs should only be placed on private land. We are looking into this problem so please, 'watch this space'!